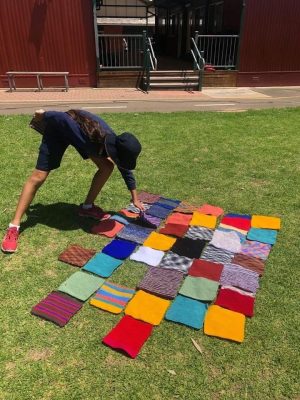 .
.
Last year…
it was wonderful to see how the year 6 students at Trinity Gardens Primary School, learned to knit squares, design layouts and join squares that later formed 2 beautiful blankets that were donated to those in need.
The students this year took on another role.
They were given bags and bags of squares and the task was to sort, select, design layouts (produce KITS), to pass on to other members of the community, to join the squares and produce the final blanket.
It was a task that required so many skills and capabilities to complete.
Sorting – into categories; colour, size, texture, pattern…
Selecting – by; contrasting or complementing, patterned or random, equal sized or varied…
Designing – to; reach the width and length required, create the visual picture…
The process itself…
relied on working well together and encouraged these qualities and more;
team work
communication
listening
collaborating
cooperation
creativity
innovation
empathy
giving
compassion
caring
To date, this group of students alone have produced over 20 kits!
So…
If you know of any school or teachers who are looking for a 'real' project for their students to be involved with community and grow the social conscience, we would love to show how easy it is to be involved.
Contact Tricia 0409 676 857