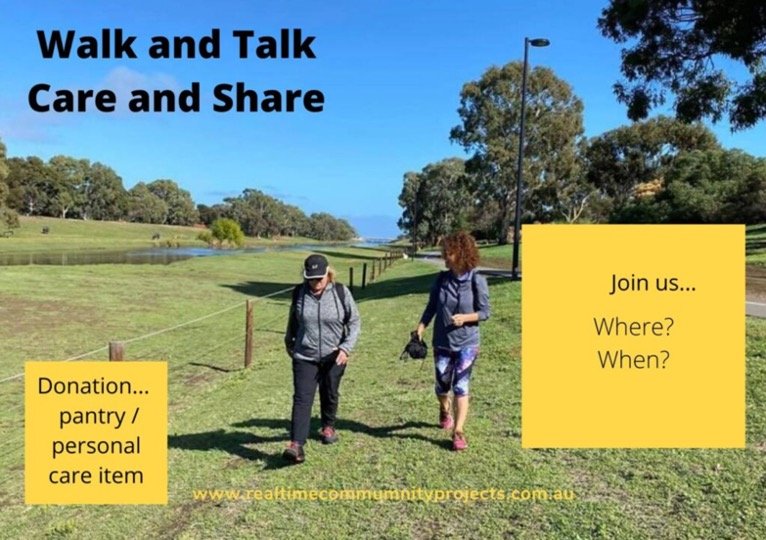 Real time talk any time and what a better time than when you are out in nature! Getting together for a shared experience, becomes a beautiful backdrop for connection. An opportunity to meet others, while you contribute to the needs of others in the community.
We have different walk and talk volunteer community members, who share the times and dates of their gatherings.
** Perhaps you'd like to be a volunteer, or join in with a walk and talk?
** View the events calendar here for upcoming walks.
Walk and Talk – City of Adelaide:
Gloria, Tricia and Nigel each fortnight meet at Frome Road near the zoo, for a walk along the river.
it is either a Saturday or Sunday walk
it usually goes for about 2 hours (or as long as you choose) including a coffee stop to end if you wish
Sometimes we do other locations around Adelaide City (announced on our event calendar and our Facebook page here)
Walk and Talk – Woodville Gardens
Ramune and Karen conduct a fortnightly walk and talk from Mikawomma Reserve, Cnr Liberty and Ridley Grove
it is Thursday morning at 10am
it ends with light refreshments at the park
Walk and Talk – St Clair Wetlands
Ramune and Karen conduct a fortnightly walk and talk meeting at the playground (closest Torrens Rd)
it is Thursday morning at 10am
it ends with light refreshments at the park
If you choose to 'walk and talk'…
you may bring a friend(s)
bring your own personal items eg. water, snacks, masks, medications
wear appropriate walking and protective gear
engage based on your own fitness level and health condition
This is not a supervised, guided, managed or registered walk, rather a casual opportunity for people to meet and explore locations around Adelaide.This invitation to walk together at the nominated time and location, is at your own discretion, choice and want.
There is no need to book, there is no fee, there is no monthly commitment. Let the community member know if you intend to be at the start point of the walk via our facebook page.
We ask that each person respects the safety and needs of each other and the environment. Physical distancing (or other standards) may be required.
In the spirit of the Real Time Heart Based Community, we ask that where possible, you gift a non perishable pantry item/s or personal care item/s to add to the Share Care Box, located at start of the walk. (click here for more about who receives the donated items)
Real Time Conversations
This community project is about real human connection.We know that now more than ever, we need to reconnect and make the time.
To listen. To have real conversations. To connect beyond words.
Time. A vital investment.
And that's what happens during the Walk and Talk sessions.