Darn with Plarn – Save our Planet
Background
Darn with 'plarn' is an environmental and social community project that anyone can contribute to at any time, in many ways.
It is also a wellbeing project for all who are involved in any way. The feel good from engaging and contributing has a wellbeing ripple effect.
Ways to contribute to this project. The roles and small parts that contribute to the whole include:
collect plastic bags
clear out any food items from the bags
fold and flatten the bag
cut strips and ball up the 'plarn'
drop off at our drop off spots around the city (see below)
utilise the plarn – crotchet squares or lengths or items
And once again – there are no have to's, just as it works for you.
Current projects that utilise the 'plarn'
There are 2 end points for the plastic yarn collected to create a purposeful product that avoids it ending up in landfill.
The first is plastic mats that bring a little more comfort to those sleeping rough on the streets.
We pass on completed Care Mats to locations who service and support those experiencing the pain of wet and cold weather when sleeping out.
The second is useable items for lifelong use.
We supply the used plastic bags converted to plarn that we receive, to volunteer people in the community keen to make products e.g. beach bags, beach mats, balls to donate to be auctioned to raise funds for environmental charities / organisations.
We currently supply our Care Mats to:
Southern Homeless Action Group
Currently this project is being engaged by schools, Girl Guides, individuals and groups.
Drop off spots
Blow its a hair thing – Rundle Place, Adelaide Concept Collections- 48 Birralee Rd Regency Pk
Blackwood area – (contact Kay) Flava Food and Coffee – Christies Beach
North East area – (contact Gloria)
Tea Tree Gully Toy Library (Tues & Thurs 10-1,Wed 2-5) Brother Bear – 10 Gawler St Mt Barker (8-2pm)
6 Mitton Court, Mt Barker (box on porch) Arkaba Medical Centre – 257 Fullarton Rd Parkside (ask for Belinda
Hallet Cove and District Lions – Op Shop Shed: 36 Quailo Ave Hallet Cove Thurs&Sat (9:30-12:30)
Palais Semaphore (gaming room)
Farm Fresh Market, Murray Bridge ( Tracey)
 We know that people WANT to HELP and be involved in purposeful, rewarding and fulfilling projects and that's what Darn with Plarn brings.
Darn with Plarn was inspired by the Knit a Care Square project.
How?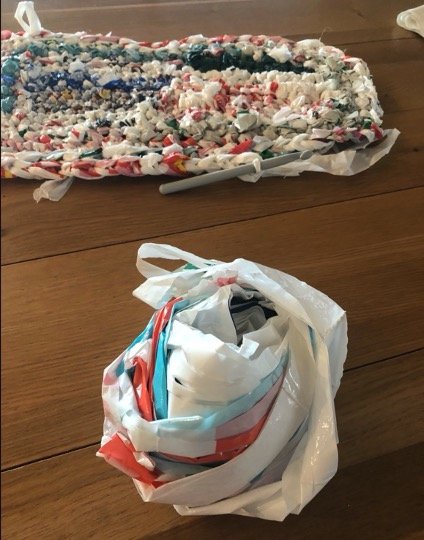 As we received squares generously donated by the community, we discovered we had an abundance of plastic bags with no purpose.
Remembering a successful project in America, where plastic bags were transformed to plastic mats with a purpose, we knew we had a direction.
While most of our plarn goes towards these mats, we have also discovered another purpose for the plastic bags.
With so many in the community, loving being creative, we have explored other uses for the plastic bags.
Our creative team of volunteers are now on the mission of making goods from the plarn.
Save our planet
We love to bring our Darn with Plarn project to communities, however the cause that underpins the project, is to SAVE OUR PLANET.
For this reason, we support and encourage innovations of any kind and we look forward to moving with what positively influences and impacts saving our environment.
It's about the small things, and we love to share some of those in the events we run and communities we connect with.