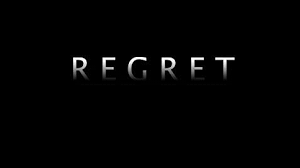 Regret
There are 2 poems on the left that were written before the session, and there is a summary of the expressions shared by those who participated in the session on the night. There were lots of interesting views around regret. It felt like therapy sharing about regret.
Regret
PJR       20.03.2021
Restless ruminating regarding regretting.
Regulating, relating, replaying, reacting,
Resulting repetition, requires remembering.
Repeating, risking rancour ripening
Realise, reflecting room remaining
Radical rightful raging regressing.
Really respecting resulting resourcing.
Resisting remorse, responding resolving,
Resume roping, righteous reminiscing.
Recognising responsible relearning, returning.
Release rampaging regret… and… FORGET.
Regret
TLab 22.03.21
How did I?
I should have!
Why didn't I?
Regret…
For what was missed,
For what could have been,
For opportunities lost,
For what can no longer be…
Burning, yearning
Fixating, churning…
Biggest sadness biggest regret
What is it?
My biggest, my choices
Not realizing I had any
My biggest, my voice
Not realizing I had one
The sooner the learning
The sooner the choice
The more the chance
The less the regret
As Frank Sinatra, with My Way, says
Regrets… I've had a few,
But then again,
Too few to mention…
How great to have so few…
Let's attempt to have that too…
Regret
I can let things go when I need to…
Regret is looking back at something you did do or didn't do
I played around with the re of regret and I came up with lots of re words…
Restless, ruminating…. see Peter's poem
Something that haunts us…
Experiences lead to regret –  may not even be true
Laugh at the regret
Speak to the regret… I wouldn't be the person I am today without what happened…
If you break the law if you have remorse – it shows you are doing something about it…
Are you though… if it is remorse it is pain… and that is the cost…
Blaming ourselves for a bad outcome…
Regret is a feeling of sadness… I wish I had…
Regrets of the dying… are often simple
I wish I had… simple things.
Karma is a consequence – the regret – when you don't listen to your own inner voice
Regret when you didn't listen to the inner voice…
Regret is pain… there is a cost
There can be shame with regret… how does it look
It can be punishing…. it can burn you for years and years…
Are you prepared to let it go and move on…
You can get better at letting go –
You can learn from what you had regret over…
Take away the judgement for example when you forget something
Don't regret the decisions because they are where and when the real learning takes place…
How do we help people see mistakes as learning not punished.
Decision to not punish yourself anymore…
Is it about worthiness…
Religious – punishment for sins
Responsibility to respond in a situation – is my power.
Sometimes you don't have control over some things…
We don't have to live with it forever…
You can only see when you see…
Sometimes it is from childhood and it's timing to do it differently
We need to be taught how to unlearn…
Because of the damage to our lives… it can be hard to move past what they're in… even the pattern of regret…
This is counter intuitive – the alternative to help release regret…
We are in a moment to wake up and change…
To open up and see differently
You can't go back – you can't change it…
But you can apologize for something that has been done…
And that helps you to let it go… it can be therapy…
The thoughts drive emotions… the emotional loop
The word should… leads to regret…
Stop using the word 'should'
Frank Sinatra… I planned each chartered course each step along the bi way, and more much more than this… I did it my way.
Don't let the repetitious story you tell yourself – leave you in regret, for so long.. that it dulls your life.
What other story can you tell myself…