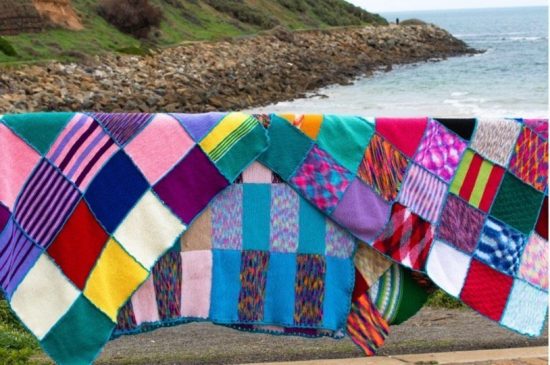 [Knit a Care Square 2020
Our 2019 Knit a Care Square meeting ended with the words 'our mission is to respond in real time… to what is happening in the world around us'
(See here for a more comprehensive account of Knit a Care Squares history from 2017).
And in early 2020, we faced the devastation of the fires…
This wonderful community did respond and came together in response and the donations of blankets and animal pouches were shared.
Many were transported to Kangaroo Island, thank you Jackie from Mt Barker for the help with transport.
The usual organisations we donate to meant the blankets reached those in need.
it was lovely that a couple of special blankets were shared with 2 local Adelaide Hills residents.
It is difficult to believe that so much of our beautiful country and wild life was destroyed. Such a devastating start to the year…
and that was just the start…
Then as we all know, there was COVID.
We all found that knitting squares was something we could do during that time, however as we came to see, the coordinating of getting squares to end sewers and kits to joiners, became challenging.
It was during that time, that Real Time Heart Based initiated their online platform to bring people together online via zoom.
Alongside many helpful wellbeing sessions to help people survive the COVID isolation, Knit a Care Square was brought online.
Every Saturday afternoon at 3:30, anyone looking to knit and chat, came along. In fact, this session has continued beyond COVID, as a way of catching up, do some knitting, learn new things and get an update on KACS news.
The first Saturday of each month is now actually devoted to Plarning – plastic yarn, you can both knit and crotchet with! We have a bit going on in the repurposing of plastic bags into something helpful, which you are more than welcome to get involved in a small way e.g. choosing to donate your plastic bags over placing them waste bin.
As the restrictions reduced and the months passed, it has been wonderful getting things moving again. And once again the community responded and here's a summary of what happened in 2020.
there was a total of

475 blankets

donated to many organisations
there are still 50 kits in waiting to be joined
we donated to new organisations further to our previous years; Puddle Jumpers, APY lands, Flinders Cancer Wellbeing Centre
We donated to more organisations further to our previous years
We raised funds for JLF with 4 our blue blankets auctioned
Our Christmas blankets raised money for the soup kitchen at 'café outside the square' feeding the homeless and those in dire need
We donated to the international students at Flinders University during COVID
Margaret Copely has begun a new hub where she resides, and the new knitters and joiners are creating many amazing blankets!
We donated to the opening of the Flinders Cancer Wellbeing Centre.