Conscious buying… To support a cause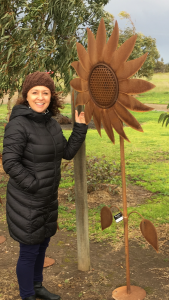 Conscious buying is about buying something that represents what you value, believe in or support.
I've noticed it is something many are feeling more compelled to do, perhaps an avenue for a voice – when things don't quite seem to be as they appear or when there is a chance to contribute beyond ourselves.
It presents as people either buying or not buying for different reasons.
Whether it is because of how or where something is made, the ingredients or products it contains, the distribution of profits from the purchase or what it shows support for.
So with some purchases, these or others may be at the forefront of your mind.
And that can bring a sense of comfort, for reasons purely personal to you.
And that's what this story is about…
And it started with my neighbours sunflower poking its beautiful face over the fence.
It captured my attention and my heart and I thought it would be nice to have one in my own garden.
A week later, a friend shared a beautiful story about her recent purchase; a sunflower designed and crafted from metal.
I knew in that moment, that same sunflower would be in my garden.
And here's the reason…
These beautiful designs are produced by Chris, who is balancing life caring for his wife and children as she faces leukaemia. And the proceeds now serve a greater cause… finding a suitable blood donor.
So I'm very happy with my conscious purchase as I now have the sunflower I had wished for and supported something that is dear to my heart.
All the best Chris and Tan and to your beautiful family…