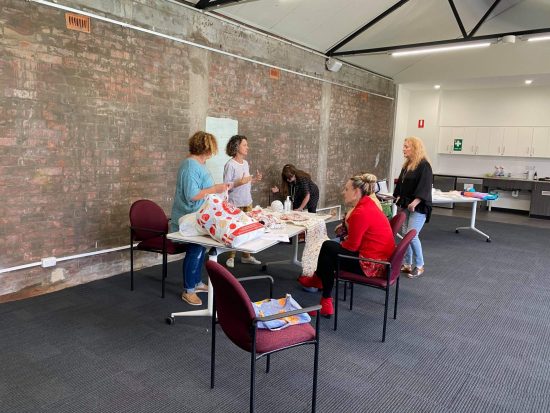 About this 'For You' event
This 'for you' session brought out some wonderful expression, and opportunity to share more about what people are up to and how Real Time Heart-Based community projects provide small can do things to contribute to.
The event began with watching the process of plastic bag, to 'plarn' (plastic yarn) and knitting or crocheting to make care mats or other items such as small therapy balls, then some time with Kay doing some easy yet very effective chair exercises to keep the movement going!
This lead beautifully into some natural conversation around self care, and what we do for it and what helps us feel happy…
A powerful message came through…
We can all become very busy, yet we can still feel isolated,
Busy doing what matters, can feel very different to busy trying to…
Today we shared what makes us feel happy and no surprises knitting was one of them.
A most beautiful expression about the day revolved around the feeling of being woven in love into the time we shared together.
See the summary of expression below… This 'heartfulness' experience brought out the real and the true of what lies within.
'For You', Heartful expression from the group
Knitting helps me…
Sitting at night, knitting is something I can do… without disturbing anyone!
What do you do to feel good and what makes you happy?
My car is programmed to stop at a swing… Beverley – tell us more…
A swing can do so much,
You can sit and listen,
It can take your body weight,
You can sway,
You can decide what you do with it,
My self-care is going on a swing,
My time out,
No matter where I am, I know where the swings are…
Swings take me back to happy times.
Pt Noarlunga RSL has a view too..
sharing how to self-care, can be great for others to hear…
just park on a hill and watch the view…
sometimes we forget how to do simple things that make us happy…
a swing – fun and play
the rhythm of a swing,
in nature…
a swinging action can feel so comforting
slides may not work so well
Nigel got stuck down one when his kids were little…
The gratitude of seeing, smelling, moving, feeling
Being in it.
my arm-chair with a small rocking – takes me into a world of my own
the joy brings wellness to the whole body…
I do the rest flow at night and it gets me to sleep…
when you've got no hope you throw love at it…
that love, connects you to family and others…
Jodie you felt it in hospitals, and it brought you love
stop to smell the roses – can bring gratitude
music can bring joy…
music is the answer for me…
play music can make a difference
the emotion can bring us back to joyful times…
dancing can do it too…
dancing can make me happy…
dress up and dance… that can make me happy…
I do what I can when I can where I can
sometimes not getting too attached can be healthy
I love to do things for others… knitting…
dancing in the rain…
dancing anytime…
I give myself time to rest before I leave so when I arrive somewhere, I feel like I have arrived.
I want to arrive and be where I am so I can enjoy…
Being busy with what matters rather than just being busy…
I feel like I have been 'woven in love' as I hold this knitted square…
It's so much more than just a knitted square,
the memories, the colour, the texture, the connection…
thank you